Growing through the years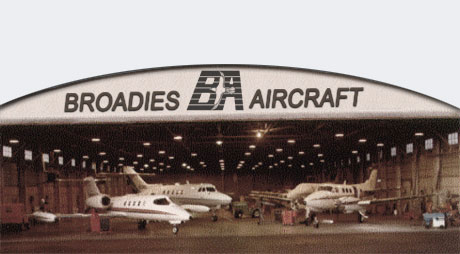 Times may change, aircraft may change, but the commitment to excellence for our customers has been unchanging since our doors first opened in 1946.
Broadie's Aircraft is Fort Worth's oldest continuously operating aircraft maintenance facility.
We are proud to be such a recognized and respected name here at Meacham International Airport (KFTW) in Fort Worth, Texas and in the aircraft service industry throughout the southwest.
Won't you join us for a fast stroll down memory lane?
Broadie's Aircraft: The Beginning
1946
Founded by D.W. Broadie, we opened our doors with a vow of outstanding service at a reasonable price. We started our company working out of a Quonset hut.
D.W. made sure that Broadie's Aircraft was always capable of handling the top aircraft of the day, and we quickly built a reputation for fast reliability and integrity.
1950's
Broadie's Aircraft was growing and we moved into Hangar 2N at KFTW, a 28,000 square foot World War II hangar. We love that our own history is tied to the history of our great country.
Broadie's Aircraft: Growing Through The Years
1978
We expanded the hangar and the business, now being run by the second generation of Broadies, who all had the same commitment to quality service and overall excellence firmly established by D.W. over 30 years earlier.
2007
The hangar was updated again, but this time we had an eye on something bigger, and began early planning for an entirely new hangar and customer facility to open on a five-year plan.
Broadie's Aircraft: Modern Times
---
2012
We moved into hangar 44N, a 64,000 square foot facility at the north end of Meacham International Airport with state of the art features and capabilities, including:
 First Class Customer Lounge Area

Complimentary Wi-Fi

Satellite TV

Stocked Refreshment Bar

Private Restrooms

Private Conference Room

14,000 square feet of shop space

150' by 250' Hangar

30' Hangar Doors to accommodate the diverse group of aircraft that Broadie's Aircraft maintains
Aircraft Models Through The Years:
Broadie's Aircraft was built on the principal that we would offer the best-trained, most experienced team to service the top aircraft of the day.
We've seen a lot of days, and a lot of aircraft changes! Through it all, we've stayed true to that core value of offering the best service available. Period.
The "old days" – recognize these names?
Beech 18

DC-3

Martin 404

Lockheed Lodestar

Howard 500

Convair 580
Transitioning into the Jet Age:
King Air

Hawker

Learjet

Citation
Today, Broadie's Aircraft sees the latest models rolling through our hangar doors.
Hawker

Falcon

Citation

Super King Air

G1000 equipped aircraft